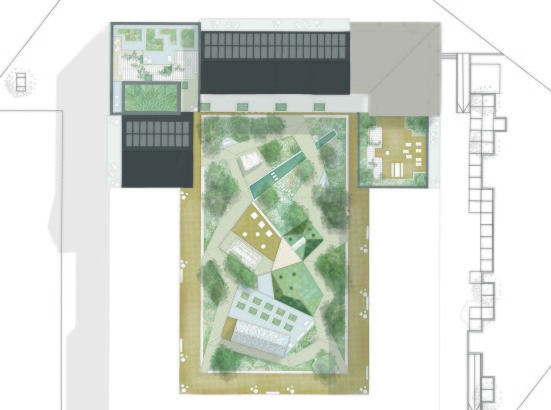 Christmas is on its way so we're taking a moment to look back at the year. We are very grateful for all the opportunities and rewarding collaborations we've had this year. One of the highlights for us was winning a competition for Västerport in Varberg together with Arkitekthuset and Hökerum Bygg. We were responsible for the design of the outdoor spaces and two roof gardens for a new mixed-use block comprising over 300 apartments. Here's some of the jury's evaluation regarding our design:

"The design of the external environment is ambitious but allows a simple movement around its proposed "secret garden" which becomes a green lung where ecosystem services, biodiversity and stormwater management interact. The two roof gardens have different themes which allows for both peace and quiet or activity and community, which is appealing. The proposal has a sound basic composition that takes advantage of the site's conditions in a good way and gives an attractive variation in the cityscape." "The inner part which provides a lush and quieter environment has been shaped with varying spatial and topographic differences that add value. The surfaces are interconnected to create a whole that breathes innovation."

This year, our Christmas gift goes to the Swedish Society for Nature Conservation (SSNC) and their work with bees and biodiversity.

We wish everyone a Merry Christmas and a Happy New Year!!


Läs hela inlägget »
Billingham & Flygare analyserar, planerar och gestaltar alla former av rum och platser som har himlen som tak.
En förståelse för de komplexa relationer, system och nätverk som råder i stadens struktur är en förutsättning för utvecklingen av en hållbar och välfungerande stad.